Learning Objectives
Our objective is to provide carefully planned stimulating environments which help children develop essential habits, attitudes, skills and ideas for a lifetime of creative thinking and learning.
Montessori's philosophy of following the growing needs of each individual child, gives children the freedom to experiment and learn in a "prepared environment" at their own pace in a non-competitive atmosphere. This allows the physical, intellectual, emotional and social potential of each child to unfold.

The core of Dr. Montessori's philosophy states that as children acquire an "inner discipline" from their exposure to both physical and mental order, they become free to learn – the natural impulse to learn is self-motivation of the child.
Maria Montessori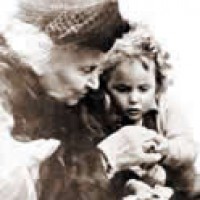 Montessori is a method of education named after Dr. Maria Montessori. It is both a philosophy of child growth and development and a rationale for guiding such development.
Maria Montessori was born in 1870. In 1895, she became the first woman in Italy to obtain the degree of Doctor of Medicine. This background led Dr. Montessori to approach education more from the scientific level than the accepted academic standard. She observed children and was constantly testing and retesting the validity of her concepts-concepts that would contribute to a more natural growth of learning in students. She designed materials and techniques that advanced the method of educating all children, learning disabled through gifted, far beyond previous practice. To Dr. Montessori, education was a preparation for life, not merely a search for intellectual skills.