Elementary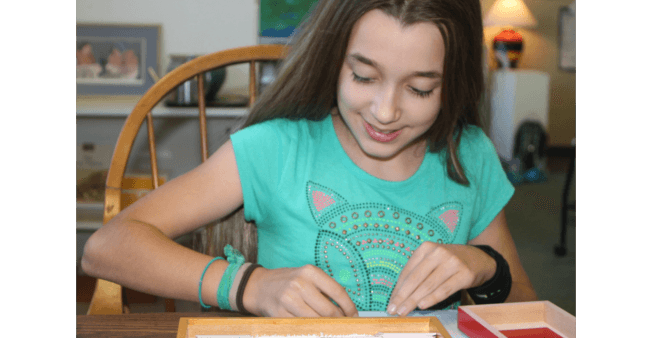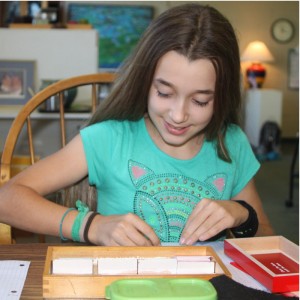 In an exciting research style of learning, elementary children (6 through 12 years) work in small groups on a variety of projects which spark the imagination and engage the intellect. Dr. Maria Montessori proposed presenting the whole universe to the child in the elementary years as the universe holds within it the answers to all questions. Such an all inclusive context can meet the challenge of the child's great intellectual curiosity and strength at this age. The appetite of the elementary age child to understand the universe and their place in it directs their work toward all aspects of culture.
Elementary studies include mathematics, algebra, geometry, reading, literature, writing, oral expression, geography, history, anthropology, biology, chemistry, physics, music, Spanish, and physical education. Lessons given by trained Montessori teachers direct the children toward activities which help them develop reasoning abilities and life skills.
The Montessori elementary student is not held back by a curriculum of his/her grade level, but is encouraged to go as far as he/she is able. The teacher has periodic conferences with each student to help him/her work effectively in all areas of the curriculum and makes certain that each student is working at a level commensurate with his/her capabilities. Through the process of discovery, children develop their passion for learning as they grasp the idea that knowledge has no limits.
The Montessori elementary environment accommodates the child's need to socialize. Each student is free to work where and with whom he/she chooses, and to converse with others sharing information and ideas.
Extracurricular Activities
Mathematic skills are developed using sensorial materials. The work gives children a solid grounding in mathematical principles, prepares them for later abstract reasoning, and helps them develop problem-solving skills.
Field trips for Extended Day students may include trips to the Apple Farm, Kinder Konzerts at Powell Symphony Hall, Storytelling Festival in St. Louis, St. Louis Zoo and Botanical Gardens.